History
For more complete reports on yearly progress, see our Newsletters.
For picture history, see our Photo Gallery
Able & Willing International Education Foundation, Inc., was established with the purpose of building primary and technical schools in developing countries in areas were access to education is limited.
Puma Mbuyu Wa Mbuyu and Ruth Snyder started the first school (MYRT School) with their own funds in 1995 in Zaire. They met with the chief of Tshamalale Village and with the parents interested in having their children have access to education. (There were no schools in the area.) The chief agreed to the idea and made land available for the school, and the parents agreed to provide labor for the construction. A parents' committee was formed to coordinate the labor contributions of each family.
The first building, housing two classrooms, was begun in 1995. In 1996 the construction was completed, and the first grade was installed. A teacher and part-time school director were hired to run the school. Salaries were provided from Ruth & Puma's personal funds. A composting toilet was built in 1996, as well, as there were very few crude latrines in the village. In 1997, Puma installed the second grade and dug a well that was then used by the entire village. (People had previously drunk water from the river). In April of 1998 Puma and Ruth started the foundation (Able & Willing International Education Foundation) to help support the completion of the school, and to make possible building other schools in other needy areas.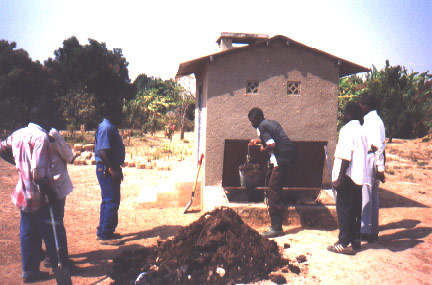 In
1998
, the second building, housing two more classrooms, was completed. The 3rd grade was installed, and 57 fruit trees were planted by the children on the school property.
In
1999
the 4th grade was installed. Puma has returned to the village each year to oversee and lead the construction of each component of the school.
As we have grown, and as the success of our first school is evident, the interest level of donors has increased as well. We became incorporated in 2000 and received 501-C-3 non-profit status from the IRS
In the year
2000
, two more classrooms were added to MYRT School when Puma returned to the now Democratic Republic of Congo. Garden beds were installed. The fifth grade was added.
In August of 2001, Puma returned to the Congo. We didn't have sufficient funds to build the final building, but he accomplished needed repairs and teacher training. The 6th grade was installed, and a total of 213 students were enrolled. The adult education program was revamped to make 3 levels available to village adults.
In
2002
, a large building was added to MYRT School. It contains seven parts: a foyer, a classroom, an adult literacy classroom, a computer lab, a library, a bookstore, and an office. Now all six grades have a classroom, all six have two shifts, morning and afternoon. This has allowed MYRT School to accommodate more students. Six laptop computers were donated by the United States government in 2002; shortly thereafter Jim Carpenter joined the Board of Directors and joined the expedition to the Congo this year to help install the laptops and train the teachers in basic computer skills. Board Vice-President, Dan Ottemoeller also traveled to the Congo with Puma and Jim and helped with a community service seminar for the school staff.
Also in the year 2002, this website was designed by (volunteer) Andrea Macginnis, and put on the web and maintained by Jim Carpenter.
In 2003, Puma oversaw the construction of a co-op and multipurpose building at MYRT School. A second set of composting toilets was added, and maintenance and repairs were done on existing buildings. Furniture was built to replace used and insect-damaged desks, chairs and tables. A generator and a welder were purchased, both for use with our construction projects and for technical training for the students.
Board member Jim Carpenter also traveled to Congo in 2003 to give the teachers further computer training, install new software, work out bugs, and help install the solar recharging system.
In 2004, Ruth Snyder and Tara Buck accompanied Puma. A new building was built into a large termite mound with a wind generator tower on top. The building housed a computer room on top and a battery room below.
In 2005, Jim Carpenter accompanied Puma. Projects included additional electricity generation (a second wind generator, repairs and housing for the diesel generator), a fully equipped workshop, furniture made in the workshop, and a new all Congolese school board. A container of shop equipment, computers, bicycles, etc. were shipped. Computers were donated to Mulunguishi University in DRC. See 2005 Newsletters for details.
In 2006, Gus Fahey accompanied Puma. Construction included: a two-story building with three classrooms and two shops and another building with an eight stall bathroom. A site 20 miles from our first school was established for a new school on 100 acres. See November 2006 Newsletter for details.
In 2007, Jim Carpenter and Angus Givens helped Puma in Congo. The building projects started in 2006 were completed and a start was made on a new school in Poleni village. Jim taught classes in computers and photography and Angus taught skills in metal working.
In 2008, a container of machinery and computers was shipped and all equipment installed in the workshops of WaMbuyu Tech. A two room school was completed in Poleni village. Faustin N'Tala and Sylvia Hyde, from Waza Alliance, a nonprofit with headquarters in Indianapolis, instructed 70 teachers on teaching methods.
In 2009, Puma stayed for 5 months to oversee expanded projects. On the Tshamalale campus, a preschool classroom and an archway display area were built, electrical wiring of all shops and computer classrooms was completed, and shop production included 66 student desks, prototype tools and machines for sale. In Poleni, a classroom for 3rd and 4th grades along with toilet facilities were completed. Other projects at Poleni included a soccer field, tennis practice wall, hand dug wells, and start of a nursing school and clinic. Waza trained 106 teachers from schools in the region. Rebecca Knowles traveled to Tanzania and Myrt Schools to evaluate the possibility of establishing a girls empowerment program.
In 2010, Puma stayed for 8 months, from June 2010 through February 2011. The major project was the construction of a power substation and connecting to the DRC hydroelectric grid, powered by the Congo River. Educators from Waza returned to teach 250 area teachers. Judy Wilson from Middletown, Maryland visited on her way to her projects in Uganda.
In 2011, Puma, school staff and students tried several business ventures to develop skills and raise money. New construction continued on Myrt 1 campus: a new building for a science lab and multipurpose room and an office building and guard house. Puma stayed for 8 months to oversee projects and lead efforts to improve the quality of education at Myrt Schools. Waza educators taught 205 teachers in their summer seminar.
In 2012, At Myrt School & WaMbuyu Tech (near Lubumbashi, Dem. Rep. of Congo): Puma stayed in DRC for 8 months. His projects included two new workshops for large projects and finishing the preschool and multipurpose room. In U.S.: Mamadou Dia and Richard Emeni joined the board with projects planned for Mali and Cameroon, respectively. In Mali: Mamadou started the Moringa for Health program with the local clinic in Manabougou, Mali.
In 2013, At Myrt School & WaMbuyu Tech (near Lubumbashi, Dem. Rep. of Congo): Puma stayed for 8 months. He finished construction and equipping two large shops for woodworking and welding projects at WaMbuyu Tech; supplied material and training to students to produce goods in school workshops for local markets and raise revenue for school; initiated school business ventures to train students and earn revenue; hosted training for 260 teachers in Katanga Province; provided financial assistance to 30 students; provided performance bonus to school staff and teachers; paid tax on school properties. Volunteers from U.S.: Nyota WaMbuyu, Kiluwe WaMbuyu and John White. At Kandale, DRC: built three temporary classrooms in Kandale; organized villages to plant 300 fruit trees as part of new Friends of the Environment initiative. In Mali: planted Moringa trees; built temporary fence and bulldozed a firebreak around the cultivated forest plot; dug a well; harvested and processed Moringa leaves to make dietary supplement for Malnourished children; provided advice and equipment to local clinic to administer the supplement to 20 more malnourished children enrolled (now totaling 41 children) in a pilot program to measure effectiveness; provided a motorcycle to make deliveries and use on tree farm. In U.S.: helped to raise funds for local scholarships through electronics recycling fundraiser, organized and sponsored an exposition and buffet featuring African development projects.
In 2014 - 2017: see Newletters.
Annual Projects
In light of the AIDS crisis in central Africa, MYRT School hosts an HIV/AIDS seminar each summer since 1999 for parents and students and people from surrounding villages. This is always very well received.
Another tradition at MYRT School is the hosting of Challenges for the Boy Scouts and Girl Scouts in the region. That consists of three days of camping out, many physical and academic contests, impromptu skits around a bonfire, and lots of just plain fun. AWIEF and local Congolese donors typically supply the prizes and food for the cook outs. Puma attributes much of his success to lessons he has learned in the Boy Scouts in Lubumbashi and is working hard to rebuild the Scout traditions of leadership and citizenship.
---

If you have come to help me, you are wasting your time…
But if you have come because your liberation is bound up with mine, then let us work together.
-- Aboriginal woman

---